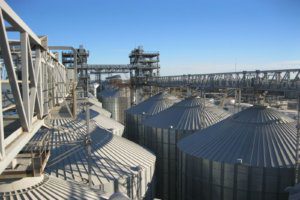 Nika-Tera marine terminal (Mykolaiv), part of Group DF of Dmytro Firtash, has increased its storage capacity by 1.8 times, to 515,000 tonnes of grain, according to a press release from the port. "To maximize the effective processing of the new harvest maize, the storage capacity was significantly increased, which as a result amounted to 515,000 tonnes. Today, these are the largest port capacities by the volume of one-time storage in the ports of Mykolaiv region and the second largest among the ports of Ukraine," Nika-Tera Operation Director Ihor Hrydnev said.
Cargo turnover at Nika-Tera terminal as of August 29, 2018 was 3 million tonnes. Since the beginning of the year, 180 vessels have been handled at the port.
In the structure of processed goods for the specified period, the share of grain, leguminous crops and oilseeds was 59%, bulk cargo stood at 36%, and fertilizers at 5%. "Traditionally grain remains the main type of cargo for the port. For the first two months of the new marketing year, 32 vessels with grain were handled at the port, the volume of transshipment was 484,000 tonnes," the expert said.
Nika-Tera is a highly mechanized sea terminal that is part of the Group DF port business.