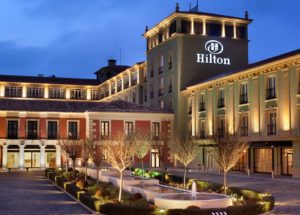 The executive committee of the Lviv City Council has approved the town-planning conditions and limits for designing an office and hotel center at 191b, Liubinska Street.
As reported on the website of the City Council, private enterprise Galmodern plans to build an office center with underground parking and a hotel and office center with underground parking on the site. The facilities will be located near the Lviv airport.
Zaxid.net reported with reference to Head of the department of architecture and urbanism of the Lviv City Council Yulian Chaplynsky that Galmodern is negotiating the opening of a hotel under the international brand of Hilton Hotels & Resorts.
"There are negotiations with the Hilton network. But for the time being they have only received town planning conditions for design. It is finally unknown if they submit this [the project] to Hilton or another network," Chaplynsky said.
According to the unified public register, Natalia Onoshko (100%) is listed as the participant and ultimate beneficiary of Galmodern.
She also acts as a signatory to LLC Innovation Management Systems, registered in 3, Shukhevycha Street, in Lviv. At this address, the Ibis hotel operates (Ibis Styles Lviv Center opened at the end of 2015).