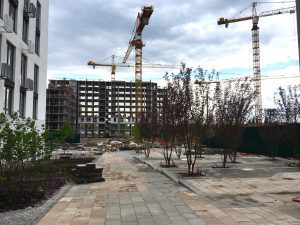 KAN Development (Kyiv) is designing two projects of gated residential communities in Kyiv, which will have a house for rental, the founder of the company, Ihor Nikonov, has said. "We have acquired two land parcels for projects of gated residential communities. We are currently developing them. However, we cannot predict whether there will be demand. We just have to take and make a new product on the market: housing in private houses within the city. I'll say right ow this will not be townhouses – they did not take root in our market," he said in an exclusive interview with Interfax-Ukraine.
According to him, the land area is approximately 30 hectares. Both projects are designed for 160-200 houses. Infrastructure will include a kindergarten with an elementary school, a kids club, a restaurant, and a swimming pool.
"We are trying to make a rental house under the project, where one can rent apartments for staff or relatives who have come to stay. All these are attributes of a comfortable life. I personally try to develop the concept of life without a car. It will be our goal in new projects. To live constantly on wheels is absolutely uncomfortable and inefficient," the founder of KAN Development said.
As he said, currently there are no offers of gated residential communities in the Kyiv's market, all projects in this segment are being implemented in the suburbs.
In addition, he said that in 2020, KAN Development plans to launch a new business-class complex project in the center of Kyiv.
"We still plan to diversify the risks and carry out several projects of different categories at the same time. This year, I think, we will launch three projects. We have begun a comprehensive business class development project in the center of Kyiv. I think that we will bring it to the market in 2020," he said.