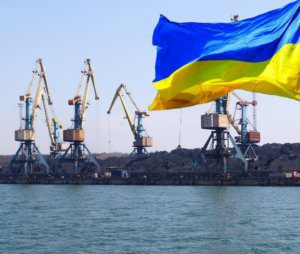 MV Cargo plans to start assembling a ship loader for the grain terminal of global trader Cargil at the Yuzhny seaport in October 2018. "The berth is almost a half ready, and the silos are at the finish line. In autumn they will be able to accept first grain. In October we will start assembling the ship loader," the company said on its Facebook page. The company said that as of the second half of September, the project to build a grain terminal was implemented by 85%, and the terminal will be capable of storing 290,000 tonnes of grain.
The length of the berth is 428 meters, depth near the berth is 15 meters and depth of the approaching canal is 16 meters.
"Our terminal is one of the deepest grain terminals in Ukraine and the Black Sea region, and, if necessary, the depth of the berth can be increased to 16 meters and the approach canal – to 19 meters. The length of the berth wall and depth will allow us to accept large-tonnage vessels, and modern equipment – to load a ship like Post-Panamax in two or three days," MV Cargo said.
It is planned that after the launch of the terminal, the terminal will ensure transshipment of 10% of grain produced in Ukraine.
ASSEMBLING, MV CARGO, ODESSA REGION, SHIP LOADER, YUZHNY SEAPORT