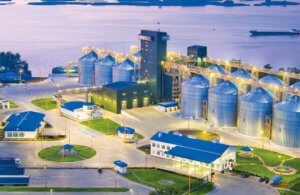 Nibulon (Mykolaiv), one of the largest grain traders in Ukraine, intends to build a port in the village of Oleksandrivka (Kherson region) in five years, the company said in a statement.
"This port is a great prospect for the development of the entire Kherson region. This is an extremely difficult task and very large investments, but our company can do this only in five years," CEO of the company Oleksiy Vadatursky said.
According to him, Nibulon continues the implementation of the investment program in Kherson region. There are already two transshipment terminals of the company in the village of Kozatske and Hola Prystan, while next year the company plans to increase the capacity of the Hola Prystan transshipment terminal by 20,000 tonnes, as well as to expand the capacity of this enterprise for accepting rice.
The company plans in the next two years to reorient almost all of its cargoes to the Dnipro River and transport by water up to 4 million tonnes of products per year, which will allow reducing the load on the roads.
Nibulon cultivates 83,000 hectares of land. It exports agricultural products to more than 60 countries. The annual export volume exceeds 4.5 million tonnes.