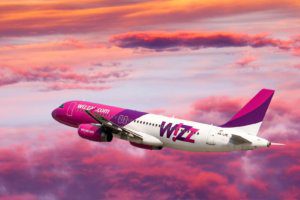 Hungary's low cost airline Wizz Air is expanding its flight network from Kyiv, boosting the total number of destinations from 21 to 23. According to the booking system of the airline, the new flights are scheduled for Vienna, Berlin and Frankfurt on the Main, although WizzAir would not fly to Frankfurt-Hahn. Wizz Air Executive Vice President and Deputy Chief Executive Officer Stephen Jones said at a press conference in Kyiv on Friday that last year the airline carried around 30 million passengers, and in 2018 it plans to carry 35 million passengers using 100 planes. "Our fleet consists of 96 Airbus aircraft, the 100th will come in June this year. We have about 4,000 employees. We have 28 bases in 16 countries, and the next base will be opened in Vienna," he said.
With regard to Ukrainian flights, Stevens said that in Frankfurt the company will fly to the main airport, going from the Frankfurt-Hahn airport.
According to the booking system, it is planned that flights to Frankfurt and Berlin (Schoenefeld) will be launched from July 1, and first two week will be made four times a week, and then on a daily basis. The flights to Vienna will start from the winter navigation schedule at the end of October and will be serviced daily. He recalled that the airline will expand the fleet in the base in Kyiv from two to three aircraft, which will add $100 of investment and create about 100 jobs in the crew and support staff.
Kyiv International Airport (Zhuliany) is located in the business center of the capital, seven km from the city center. It is the second largest airport in Ukraine in terms of the number of flights and passenger traffic. The airport has three terminals with a total area is 21,000 square meters. Terminal B is separate facility for business-class service, it is part of the Fixed Base Operator (FBO) system. The airport's runway is able to handle B-737 and A-320 aircraft.
BERLIN, FLYING, FRANKFURT, INTERNATIONAL AIRPORT, VIENNA, WIZZ AIR