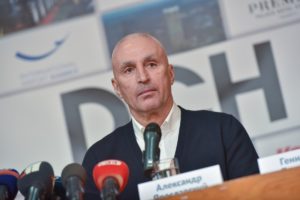 The DCH Group, uniting assets of Ukrainian businessman Oleksandr Yaroslavsky, under a strategy of increasing effectiveness of the mining and metal business has created DCH Steel, which will manage the respective assets: Dniprovsky Metallurgical Combine (DMZ, Dnipro) and Sukha Balka ore mining enterprise (Kryvy Rih).
According to the information on the official website of DCH, the essence of the transformation is to optimally build a management system for mining and metal enterprises at the stage of implementing large-scale investment projects.
According to DCH, Yaroslavsky plans to invest from $150 million to $200 million in his mining and metallurgical business over the next five years. Owning to these investments, in particular, the blast furnace stock of coke-chemical production will be restored at the DMZ and a continuous casting machine will be built, and at Sukha Balka it is planned to organize a processing plant, to develop ore deposit at deeper levels, and to upgrade equipment.
"In the process of gradual vertical integration, the production chain ore mining-enrichment-agglomeration-smelting of iron will be formed," the group said.
According to the press release, at the level of DCH Steel, general management functions will be centralized, and manufacturing companies will focus their efforts on production and improvement of technology. The expected results of optimizing the management of the mining and metallurgical business of the DCH are to eliminate dependence on external supplies of sinter, to ensure a positive synergy of the activities of the DMZ and the mining enterprise, which should increase competitiveness and sustainability, as well as improve financial performance.