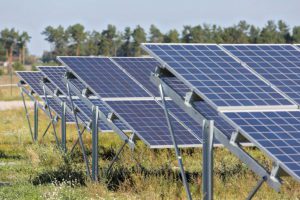 UDP Renewables of businessman Vasyl Khmelnytsky on March 1, 2019 launched its third solar power plant Scythia Solar 1 in Zaporizhia region with a power capacity of 13 MW. The company's press service reported that investment in the project reached $10.1 million. The plant consists of 38,232 solar panels produced by JinkoSolar. It will allow generating nearly 16.2 GWh per year. The plant is located on an area of 20 ha.
EPC contractor is a Ukrainian group of companies KNESS. Financial partner of the project is Ukrgasbank (Kyiv). According to a posting on the website of UDP Renewables, it plans to boost the capacity of solar power plants from 24 MW to 175 MW this year.
As reported, in November 2018, UDP Renewables launched the 18.3 MW Free-Energy-Henichesk solar power plant in Kherson region. Investment totaled $18 million.
UDP Renewables currently also operates Dymerska Photovoltaic Power Plant 1 (Kyiv region) with a capacity of 6 MW.
UFuture Investment Group, headquartered in Brussels, was established in autumn 2017 and united the business projects of Khmelnytsky. The group includes the Ukrainian development company UDP, which core business is the implementation of large infrastructure projects.
SOLAR POWER PLANT, UDP, VASYL KHMELNYTSKY'S, ZAPORIZHIA REGION