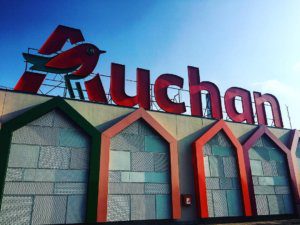 International developer Ceetrus Ukraine LLC (formerly Immochan), which is part of the French holding Auchan, is building a new Auchan shopping mall on Chornovola Street in Lviv. "The new Auchan shopping mall in Lviv will be a two-story facility. The first floor will house an Auchan hypermarket and a boutique gallery, the second floor will be used for innovation coworking and a restaurant," Ceetrus said.
According to the company, the area of the Auchan hypermarket will be about 7,000 square meters, the area of the boutique gallery will be 1,800 square meters.
The company did not disclose the deadline for putting the facility into operation.
According to an official statement, Ceetrus Ukraine is the exclusive broker of the Auchan shopping mall in Lviv and is looking for tenants of the facility's retail gallery.
The new Auchan shopping mall is being built next to the Avalon residential complex whose residents are 353,500 people. Ceetrus Ukraine LLC (Immochan Ukraine until June 2018) is an international developer of shopping centers and retail parks in Ukraine. As of September 2018, the company had five operating retail galleries in the Auchan shopping centers in Kyiv and Lviv, the Auchan Rive Gauche shopping mall and Retail Park Petrovka (both in Kyiv). Three large projects – the second phase of the Rive Gauche shopping mall in Kyiv, the OVI shopping mall in Odesa and the Retail Park Petrovka 2 (Kyiv) – are under development with a total gross leasable area (GLA) exceeding 200 square meters.
Ceetrus was founded in 1976 (Immochan until June 2018). The company is a global real estate player, owning 393 shopping malls around the world.