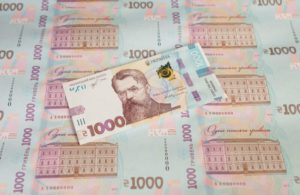 The National Bank of Ukraine (NBU) on October 25, 2019 put into circulation the 1,000-hryvnia banknote, the NBU has reported on its website.
"From today, banks will be able to get it at the National Bank and give it out to their customers. This banknote is now a valid means of payment in Ukraine. It can be freely used to pay in a retail network or make a deposit with a bank," the press service of the governor of the central bank said, citing Yakiv Smolii.
According to him, the key advantages of putting into circulation the new banknote with a face value of UAH 1,000 are an increase in the convenience of payments and a reduction in the cost of producing and processing banknotes. The 1,000-hryvnia banknote replaces in circulation some of the banknotes with a face value of UAH 100, 200 and 500. In addition, the appearance of the new banknote will simplify payments and savings.
As the central bank said, the last time the highest face value banknote – UAH 500 UAH was put into circulation 13 years ago. At the same time, Ukrainians' incomes are rising, prices are changing, therefore, according to theoretical studies used to determine the optimal banknote number by the central banks of the world, to ensure normal money circulation in Ukraine, banknotes of a higher face value than UAH 500 are needed.
According to the press service, the new banknote combines advanced design and money security technologies.
"The 1,000-hryvnia banknote is the highest face value our national currency has today. It is therefore well protected. This banknote contains more than 20 modern security elements, including two modern optically variable elements. Everyone can independently verify its authenticity," Smolii said.
So, turning the banknote in your hands, you can easily check its modern security element – the SPARK OVI element in the form of a crystal flower, which should gradually change color – from golden to jade green. Another innovative security feature is the "window" thread. This partially embedded in the paper purple polymer thread contains the digits representing the banknote's face value and the trident – the small coat of arms of Ukraine. Tilting of the banknote brings out the kinematic effect, the background image moves in the opposite direction.
The front of the banknote features a portrait of Volodymyr Vernadskyi, an outstanding scientist, one of the founders and the first president of the Ukrainian Academy of Sciences, created in 1918. The building of the Presidium of the National Academy of Sciences of Ukraine is at the back of the banknote.
The 1,000-hryvnia banknote inherits the new modernized design of the upgraded 20, 100 and 500 hryvnia banknotes.