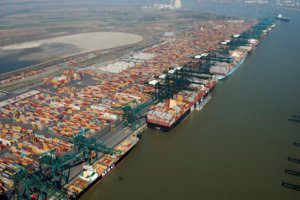 The Ukrainian Sea Ports Authority and Port of Antwerp International/APEC (Belgium) have signed a memorandum of understanding. The document provides for a detailed analysis of the strengths and weaknesses of Ukrainian seaports and further interaction in order to attract investment in their development. "Experts from Port Antwerp International will conduct a SWOT-analysis of the situation in Ukrainian seaports and will formulate a plan of partnership assistance in implementation of the development strategy of Ukrainian seaports," Ukrainian Sea Ports Authority Head Raivis Veckagans said.
He said that trainings for specialists of the Ukrainian authority start this week in the areas of pricing for port services, work within the framework of port landlord model, concession project implementation, as well as the peculiarities of the interaction of environmental services in the port.
Managing director of Port of Antwerp International and the APEC Port Training Center Kristof Waterschoot said that the Black Sea region and, in particular, the seaports of Ukraine are now at the center of attention of international experts.
The Ukrainian authority also said that Port of Antwerp International is acting internationally, not only as a consultant, but also as an investor. In particular, the company invested $10 million in Porto do Aç (Brazil) in 2017 and more than $2 million in the port of San Pedro (West Africa) in 2016.
"Further cooperation with Ukrainian ports will also consider the possibility of Belgian and international experts participation in attracting investments and implementing projects on development of port infrastructure in the seaports of Ukraine," the authority said.