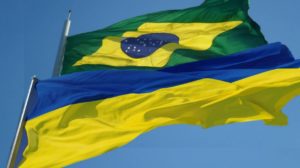 Ukrainian President Petro Poroshenko held a meeting with newly elected President of Brazil Jair Bolsonaro in Davos (Switzerland), where the World Economic Forum is taking place. During the meeting the two presidents pointed out the importance of resuming large-scale cooperation in all sectors of mutual interest.
"The parties discussed prospects of intensification of trade and economic cooperation, first of all in the military-technical, investment, energy, scientific-technical and other spheres. It was also agreed to hold a regular meeting of the Intergovernmental Commission on Trade and Economic Cooperation in the near future," the press service of the Ukrainian head of state reported on Thursday.
The parties confirmed interest in restarting a number of industrial, energy, infrastructure and other projects suspended by the previous administration of Brazil.
"The parties stand for the need to increase the level of coordination between the two countries in the framework of international organizations, first of all the United Nations. The President of Brazil supported the independence, sovereignty and territorial integrity of Ukraine," the press service said.
Poroshenko invited Bolsonaro to visit Ukraine.