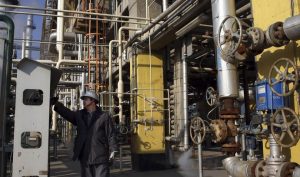 Smart Energy increased its summary gas production by 8.6% in 2020 year-over-year, to 400.6 million cubic meters, the press service of the group has reported.
In addition, condensate production grew by 4.8%, to 34,700 tonnes.
"Increase of overall production volumes by Smart Energy in 2020 is a result of wells No. 61 and No. 62 launch after workovers at Ostroverkhivske field as well as new volumes of hydrocarbons, resulted with launch of a new well (No. 54) at Svyrydivske field in May of 2020. Meanwhile, a decline in production rates from well No. 10 of Vasyshchivske field continues due to the natural depletion. Therefore, in Q1, 2020, compression equipment was installed to increase production from Vasyshchivske field. And workover is planned to commence in late Q1 of 2021 to access an alternative reservoir horizon, with the aim of boosting production from this well," the press service said.
Last year the group completed drilling a new well, completed two workovers, installed two new compressors, received the grant of extension of two licenses, and become an owner of a new licence for Svystunkivsko-Chervonolutske field through acquisition of Arkona Gas-Energy LLC.
For the reported period well No. 25 at Svyrydivske field has been drilled to its target depth of 5,320 metres, and logging and completion operations have been performed. It is anticipated that initial testing of the well will commence by the end of January 2021. Subject to successful testing, production hook-up is planned to be completed by the end of Q1 of 2021.
Currently, planning for the drilling of well No. 29 at Svyrydivske field is progressing, with the well due to be spudded in Q1 of 2021. At Vasyshchivske field planning is continuing for a new well to explore the Vvdenska (VED) prospect within the Vasyshchivske licence area. At Ostroverkhivske field processing and interpretation of data of 3D-seismic studies have been completed. The results provide the ground for drilling a new well, due to be spudded in 2021 as well.
"Last year turned out to be rather difficult and not only for the industry, but for all of us in general. Due to our numerous safety measures and high professionalism of our team, Smart Energy Group has not experienced any significant impact so far. We continued to increase production volumes and execute our projects. Nevertheless, we have pretty restrained expectations regarding a new year as lower gas prices and the global economic crisis, strengthened with pandemic COVID-19, will have their impact on gas production," CEO of Smart Energy Group Serhiy Hlazunov said.