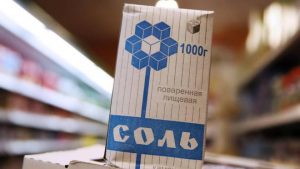 The state-owned enterprise Artyomsol in 2020 reduced salt production by 41%, to 1.18 million tonnes, which is associated with weather conditions, quarantine and increased competition in world markets, the company said in a press release on Tuesday.
According to it, Artyomsol produced 762,200 tonnes of ground salt used for sprinkling roads without packaging, which is half as much as in 2019, and this is associated with a warm winter in Ukraine and far abroad. According to the state-owned enterprise, the production of packaged salt increased by 3.6%, to 186,400 tonnes, whiles the production of iodized salt decreased by 6.6%, to 53,200 tonnes.
Salt packed in bags (10 kg, 20 kg and 50 kg) was produced in 2020 by 27.6% less only 147,600 tonnes, production of salt packed in flexible intermediate bulk containers reduced by one third, to 51,000 tonnes.
The output of salt briquettes over the year, according to a press release, decreased by 6.7% , to 11,200 tonnes, while salt blocks increased by 17%, to 3,400 tonnes.
The state-owned enterprise indicated that in 2020 the enterprise shipped its products to 15 countries of the world. The main importers of its products are Hungary, Poland, Slovakia, Romania and Belarus. More than 70% of the products were sent to the Ukrainian market.
According to the enterprise, at the end of 2020, there was a tendency to increase production volumes of the entire range.
"We have started a program of 'rehabilitation' of the enterprise, which includes a set of rapid measures to improve production efficiency and social support for workers. In 2021, we plan to increase investments in renovation and modernization of production to UAH 250 million, while in 2020 the volume of capital investments amounted to UAH 66 million," Acting Director of Artyomsol Victoria Lutsenko said.
Artyomsol is one of the largest enterprises for the extraction and sale of sodium chloride (NaCl) in Central and Eastern Europe. The production facilities of Artyomsol are located in Soledar, Donetsk region.