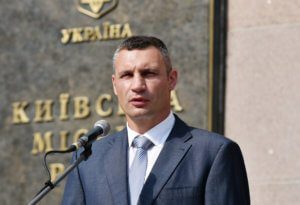 Kyiv Mayor Vitali Klitschko has said that the city authorities are preparing to open several updated tourist sites in 2018 that will help attract more tourists in Kyiv, Kyiv City State Administration's (KCSA) press service reported on March 31.
"The Champions League final will be held on May 26. We are expecting many tourists. Our goal is to make sure that each of them, upon return home, could tell about the wonderful city of Kyiv. The tourism industry is one of the profitable articles of each city. In the past year, our capital was visited by one-and-a-half million tourists. This year we expect two-and-a-half million guests. I am convinced that Kyiv has great tourist potential, and we are developing it. This year, we will renew St. Volodymyr Hill, the Alley of Artists, and the Landscape Alley. We will soon open very beautiful stairs from the Landscape Alley to the Honchari-Kozhumiaky natural landmark. We will develop the territory around St. Andrew's Church," Klitschko said.
According to him, each tourist spends an average of $150 a day in Kyiv, which also invests in the capital's economy.
According to the report, many guests will come to the city this autumn, when Kyiv hosts the 56th Congress of the World Boxing Council (WBC). Such a great boxing event in Ukraine will be held for the first time.