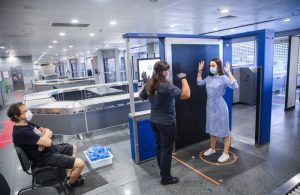 Ukraine International Airlines (UIA) has installed the first laboratory for PCR and antibody tests at Boryspil International Airport (Kyiv region).
UIA President Yevhen Dykhne said on Facebook that now the laboratory will be used to test UIA crews, however, it will also be able to provide for the needs of departing or arriving passengers, if the arrival country requires a corresponding certificate.
"For example, Tunisia, with which air traffic will soon be restored, allows free border crossing with the availability of a PCR test," he added.
Dykhne said that a PCR test currently has the highest specificity and sensitivity, in contrast to rapid tests. The material for analysis is a throat swab, and the analysis takes three hours. At the same time, a possible simultaneous loading of the laboratory is 96 samples.
In addition, he said the laboratory also provides for the option of an urgent PCR test of one individual sample within 40 minutes and testing for antibodies to SARS-CoV-2, which allows to determine the earlier infection and the presence of immunity (the test material is blood from a vein, the speed is 86 tests per hour).