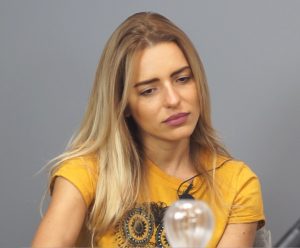 Many people, who have become vegetarians, risk gaining negative experience of eating poor quality seasonal fruit and vegetables, says nutrition expert Veronika Vero, who is also an author of health improvement programs.
"In my practice, I often noticed the presence of nitrates in seasonal fruit. Since vegetarians often have an increased sensitivity to tastes, such people may have a stronger reaction to nitrate-containing food than 'omnivorous' people," Veronika said.
According to the expert, after long body purification, consumption of any contaminated food may cause at least an allergic reaction or even a serious poisoning. This is connected with changes in vegetarian's metabolic processes.
"The body of a person consuming both animal and plant food can accumulate toxins for years, but finally this may cause liver cirrhosis or another serious disease. As to vegetarians, their bodies response immediately as they do not accumulate toxins," Vero said in a program on healthy nutrition on the Expert Club YouTube channel.
She said people, who decided to become vegetarians, first of all should focus on self-improvement and self-education, because learning healthy nutrition programs is one of the most important tasks of a person, who decided to refuse from eating meat.
Veronika Vero, a vegetarian and healthy nutrition expert, spent more than eight years of training at a research and development center. She is the author of several programs, seminars, as well as physical, mental and energy retreats.
The full video is available on the Expert Club YouTube channel.
EXPERT, EXPERT CLUB, FRUIT, HEALTHY NUTRITION, MOROZOV, URAKIN, VEGETARIANISM, VERO