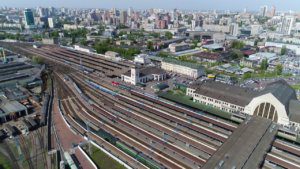 The Cabinet of Ministers of Ukraine has approved a project on organization of passenger traffic between Kyiv city and the Boryspil international airport. It will take 13 months and a half to implement the project, which cost is UAH 583.238 million (in the prices as of May 2, 2018). According to the document, which has been sent to Interfax-Ukraine, construction works would cost UAH 428.478 million, equipment and furniture – UAH 37.755 million and other expenses – UAH 117 million.
The total exploitation length of the section between Kyiv Pasazhysky station and Boryspil airport is 37.4 km. The project is divided into two stages. The cost of the first stage is UAH 502.947 million. It is planned to build 3.7 km of railway track, one new stop and a flyover railway line of 272 meters long in six months.
In addition, two passenger platforms with open-door passenger shelters near Terminal D of the airport and an open-door gallery between the passenger shelter and Terminal D of 150 meters long.
The cost of the second stage is UAH 80.291 million. A new stop, a high passenger platform near the flyover railway line of 160 meters longs will be built in seven months and a half.