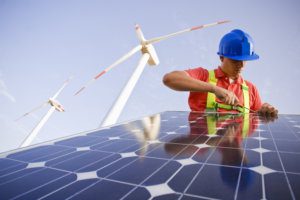 The European Bank for Reconstruction and Development (EBRD) is about to invest from $2 million to $4 million in the development of infrastructure of auctions stimulating renewable energy, EBRD Deputy Director in Ukraine Marina Petrov said during her interview to the Reform.Energy website. "This is the money that we are already asking for now from the donors in order to launch a high-quality auction," she said. She explained that market players might not be able to perceive poorly organized auctions. "This is very important to keep up the balance of interests in order to receive the most outstanding result," Petrov said. The auctions will have to be transparent, understandable and in line with legislation.
According to her, the EBRD during Ukraine's transition to the auctions stimulating renewable energy is ready to share its experience from similar auctions in those countries which were the first ones to introduce such tools. Such or similar auctions are held in Turkey, Poland, Bulgaria, Jordan, Egypt, and Armenia, she said.
The amount is to be allocated within the EBRD's USELF-III lending facility approved in July this year in the amount of EUR 250 million to support private renewable energy projects in Ukraine, she said.
Speaking at the Ukrainian Financial Forum organized by the ICU Invest Group in Odesa, the EBRD representative said that market operators had questions as for who would be a balancing player on this market. She said that the EBRD was working jointly with the U.S. Agency for International Development to create the market of balancing facilities and invest the funds in more mobile parts of the system, e.g. batteries, gas turbines. "This is next year's agenda," Petrov said.
In general, she described the situation on the renewables market as a "quick sprint" – the investment is to be made while the current feed-in tariffs are in effect.
"We've got many investors who are mulling over investment this and next year. We have fewer investors who are preparing projects for 2020-2021. We see there will be a steep decline," she said.
In this connection, she called on the adoption of a law on renewable energy auctions by the end of the current year.
Ukraine has great potential for the development of other sectors of renewable energy, mainly biofuel and small hydro facilities, she said.
DEVELOPMENT, EUROPEAN BANK, INVEST, RECONSTRUCTION, RENEWABLE ENERGY