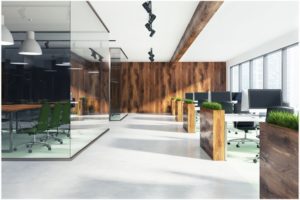 Average vacancy of business centers in Rivne by August 2019 was 3.1%, and by late 2020 it is planned to expand total office space supply by 8,000 square meters, UTG consulting company (Kyiv) has told Interfax-Ukraine.
"The main increase in office space in Rivne was seen in 2000-2004, when 45.1% of the total market supply was built/reconstructed and put into operation (GLA is 41,000 square meters). During 2016-2018, not a single new business center was opened, and in 2019 the total office supply was replenished with the Smart BAU office building located at 41/1, Vidinska Street,(GLA 1,100 square meters) and TOTs located at 11, Zamkova Street ( GLA 370 square meters)," UTG Senior Analyst Oksana Gavrilevich said.
According to her, the active construction of a business center is carried out by the Renome company on Lionokombinatska Street with the first Sport Life club in Rivne (GLA more than 5,000 square meters).
In addition, there are seven office buildings at different stages of construction and installation works; in 2020, offices with a total lettable area of more than 8,000 square meters were declared to open.
"Despite the large volume of the current office supply (per 1,000 inhabitants, it is comparable with the largest regional centers of Ukraine: Odesa, Lviv, Dnipro), the total area of high-quality and professional facilities in the city is no more than 11,000 square meters. About 79% (71,300 square meters of the city's office premises were commissioned before 2008 and are already morally and technically outdated," Gavrilevich said.