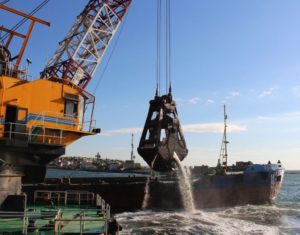 Ukrainian Sea Ports Authority (USPA) is starting exploitation dredging works at Berdyansk seaport in an amount of 1.85 million cubic meters. As the USPA press service said, Dunay dredger to maintain the passport depths has already come to Berdiansk port.
"The start of operational dredging is an important event for the Berdiansk seaport. A decrease in depth negatively affects the competitiveness of our port and the efficiency of port operators. The contractor has a large-scale task: to dredge with a total volume of 1.85 million cubic meters. The first dredger has already begun work in the port's water area, we expect that in September the contractor's fleet will begin to work in full force in the Berdiansk port," a press service of USPA regional office in Berdiansk quotes its chief Oleksandr Barchan as saying.
At the end of May 2019, USPA for the restoration of passport depths in the port of Berdiansk, following a tender in the ProZorro electronic procurement system, signed an agreement with Azimut Specialized Technical Bureau LLC. According to USPA, the savings following the results of the tender amounted to more than UAH 75 million.
According to the agreement, the total amount of works to be performed by the contractor in the port of Berdiansk is 1.85 million cubic meters. It is necessary to carry out major works with an amount of 1.39 million cubic meters on the access channel, and 466,000 cubic meters in the port water area. The contractor should complete half of the contract by the end of 2019.
On a par with contractor's fleet, Meotida dredger continues its works at Berdiansk port operating on the certain parts of the access canal.
As reported, in 2019 USPA plans to carry exploitation dredging at seven seaports: Mariupol, Berdiansk, Izmail, Chornomorsk, Mykolaiv, Odesa, Kherson, and two major dredging projects at Chornomorsk and Yuzhny ports.