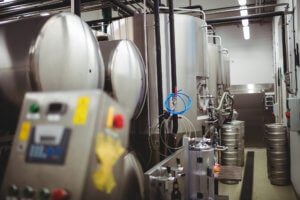 UBC Group (Kharkiv), a commercial and industrial holding, working in the field of refrigeration and promotional products, has built the first stage of a refrigerator factory with an area of 20,000 square meters in Vinnytsia. "Vinnytsia. The new UBC Group plant – Green Cool. The first stage of about 20,000 square meters is ready. The installation and start-up phase has started under the guidance of Italian engineers. At the same time, we recruit personnel. Theoretically, in June the plant must produce the first products," President of UBC Group Ihor Humenny wrote on his Facebook page.
According to him, refrigerators with a glass door and an ice cream box will be produced at the Vinnytsia factory.
As reported, the capacity of the first stage of the plant for production of refrigeration equipment in Vinnytsia will amount to 60,000 pieces per year. Its budget is EUR18 million.
After the launch of the first stage, UBC Group plans to expand the facility from 20,000 square meters to 35,000 square meters. The second stage will produce refrigerator boxes, the group will reach a capacity of 150,000 pieces per year. Capital investments in the second stage are estimated at about EUR10-12 million.
UBC Group has three plants in Ukraine and offices in 26 countries.