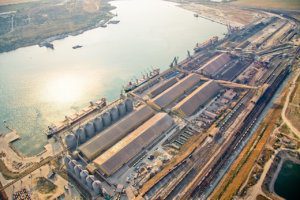 TIS Port (the stevedoring company operating in Yuzhny port, Odesa region) allows participation in the concession of Yuzhny port if the necessary law is adopted. "Yes, it is quite possible that it will be Yuzhny port," co-owner and CEO of TIS Andriy Stavnitser said in an interview with Interfax-Ukraine. Speaking about smaller ports, he noted that, in his opinion, Ukraine does not need as many ports, and some of them can be closed, and some can be reformatted.
"Kherson, Izmail, Bilhorod-Dnistrovsky – there could be tourist zones, yacht clubs there, for example, which would bring revenues but not losses to the state," Stavnitser said.
Asked about the considerations on the basis of which Kherson and Olvia ports were made pilot for concession, he noted that it is probably more visible for the Ministry of Infrastructure, but stressed that TIS won't participate in any of these concessions.
"Not because we are so big, deep-water and do not notice anything else around. There are simply ports whose maintenance costs the state more than profits from them," Stavnitser summed up. As reported, the Verkhovna Rada adopted as a basis bill No. 8125 on concession.