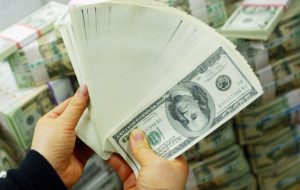 The total government debt of Ukraine in March 2020 decreased by 3.62% in dollar terms, to $80.38 billion, and in the hryvnia it increased by 10.15% and amounted to UAH 2.255 trillion, the Ministry of Finance has reported. According to the Ministry of Finance, direct public debt in March this year in dollar terms decreased by 3.71%, to $70.87 billion, while in hryvnias it grew by 9.98%, to UAH 1.988 trillion. In particular, external direct debt in March decreased by 0.4%, to $40.34 billion.
State-guaranteed debt last month increased by 11.33%, to UAH 266.7 billion, in dollars decreased by 2.96%, to $9.51 billion. In particular, external debt fell by 11.23%, to UAH 255.83 billion, in dollars it external guaranteed debt decreased by 2.98%, to $9.12 billion.
Since the beginning of the year, the total public debt decreased by almost 4% in dollar terms and increased by 8.4% in hryvnias, according to the ministry.
As reported, the total and state debt of Ukraine in February decreased due to the weakening of the hryvnia by 1.46% in hryvnias and by 0.02% in dollar terms.