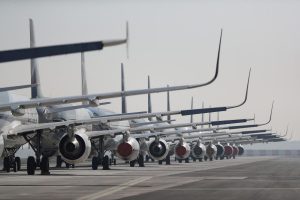 Ukraine and the Slovak Republic have signed an intergovernmental agreement on the provision of aviation operational services by their Ukrainian supplier in a certain part of the Slovak airspace relative to Uzhgorod airport.
According to Minister of Infrastructure Vladyslav Krykliy, the document was signed by him and Minister of Transport and Construction of Slovakia Andrej Dolezal.
"The full operation of Uzhgorod airport will be restored. Just now, together with my Slovak colleague, Minister of Transport and Construction of the Slovak Republic Andrej Dolezal, we signed an appropriate bilateral intergovernmental agreement. Finally, after so many months of inactivity, we will connect Zakarpattia by air service with other regions and with abroad," he wrote on his Telegram channel on Thursday.
According to the press service of the Infrastructure Ministry of Ukraine with reference to the head of the department, the signing of this agreement will also help strengthen mutual bilateral relations in the civil aviation sector between the countries and in terms of expanding the possibilities of international air transportation.
However, Krykliy expressed hope for the early completion of the coordination of technical issues related to the implementation of the agreement and the signing by the parties of the implementation protocols within a month.
The ministry said that the agreement was initialed by both countries during negotiations in Kyiv on December 18, 2019. The document takes into account the security and defense aspects arising from the membership of Slovakia in NATO, as well as from the fact that the Ukrainian-Slovak border is also the external border of the Alliance.
According to the ministry, the agreement was concluded for an indefinite period and comes into force from the date of receipt through diplomatic channels of the last written notification of the completion of the domestic procedures necessary for its entry into force.