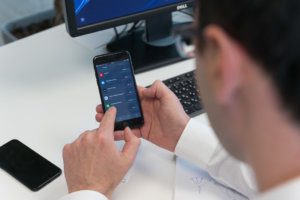 Several companies and banks are designing a mobile application for buying government domestic loan bonds, Head of the Depositary Operations Department of the National Bank of Ukraine (NBU) Andriy Suprun has said.
"I think that next year, perhaps at the beginning of the year, the purchase of government domestic loan bonds by individuals can occur in several clicks in a mobile application. Several market players are currently working on the creation of this solution," he said at the annual Ukrainian Financial Forum in Odesa, organized by the ICU investment group.
Suprun said that the NBU, for its part, provides them with the necessary support.
"We are writing an open API [application programming interface] and allow everyone to get involved in this competition, to provide the corresponding service to the market," he said.
In addition, the representative of the NBU said there will be an opportunity to submit brokerage applications in the primary government domestic loan bonds market in the near term.
"In fact, the next auction can take place with a possibility for any investor to submit applications to the Finance Ministry through primary dealers. This should improve the indicators of attracting funds, primarily from the population," Suprun said.
In general, he considers these initiatives to be mutually beneficial for the state and the population.
"The state receives a resource, natural persons – a good percentage, almost tax free, in contrast to deposits, as well as a 100% state guarantee for any amount," he said.