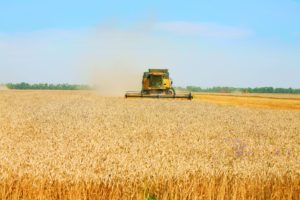 KSG Agro next year plans to boost grain and wheat flour export to Oman, Qatar, Libya and Angola 2.8 times compared with 2019, to 50,000 tonnes.
The holding said in a press release that in 2019 KSG Agro plans to export up to 18,000 tonnes of grain and flour to these countries, and at present, 11,800 tonnes of goods have been delivered.
The company said that in 2019, the agricultural holding exported cereals and flour exclusively to Oman, Qatar, Libya and Angola.
"We are very interested in exporting to the markets of the Middle East and Africa, where there is a demand for our products. Expanding agricultural exports allows us to diversify sales channels and receive foreign exchange earnings, as well as increase margins," KSG Agro Board Chairman Serhiy Kasianov said.
In 2018, KSG Agro delivered 5,000 tonnes of corn to Oman and Qatar, in 2019 the export of this crop to two countries amounted to 5,300 tonnes. In addition, this year, the agricultural holding exported feed barley to these two countries in the amount of 4,000 tonnes. Also in 2019, KSG Agro delivered 2,500 tonnes of wheat flour to Libya and Angola.
"Thus, the total export volume of agricultural products of the agricultural holding in 2019 increased 2.4 times compared to 2018," KSG Agro said.
KSG Аgro is a vertically integrated agricultural group, working in almost all the segments of the agricultural market, including the production, storage, processing, and sale of agricultural products.