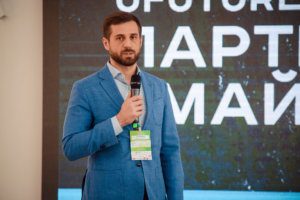 The Spring Business Forum 2018 event gathered more than two hundred professionals, representatives of state-owned enterprises, banking and business circles. For entrepreneurs, the forum is also a good opportunity to talk about cooperation and business development in an informal atmosphere and meet peers. The forum was opened by Lviv Mayor Andriy Sadovyi, who talked about business confidence and cooperation with the authorities. "The basis of any entrepreneurial activity is trust. If it is, then there is development. If it is not, then there is trouble. Therefore, this trust can be built up only when there is communication, when there is an exchange of ideas."
An interesting statement was made by Country Director of the European Bank for Reconstruction and Development for Ukraine Sevki Acuner, who noted the importance of attracting investment. "There is one challenge that we can handle. This is an investment. Foreign or domestic. To do this, we must make products more innovative, look for new approaches and compare our products with those on the global market."
A success story of a Ukrainian investor was told by Vitaliy Melnyk, the Chief Executive Officer of UDP, a company with a huge number of implemented projects in Kyiv, which launched the LvivTech.City project in Lviv last year. The project is aimed at the development of an innovative ecosystem in Lviv, which includes the construction of modern office space, social and residential infrastructure. The construction is now under way along with talks with potential residents regarding the location of their facilities.