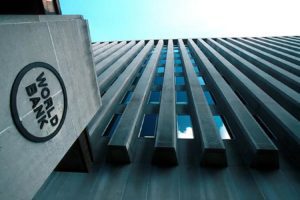 The World Bank, taking into account the results of H1 2019, has improved its forecast for gross domestic product (GDP) growth in Ukraine in 2019 from 2.7% to 3.4%, expecting that it would accelerate to 3.7% and 4.2% in 2020 and 2021 respectively.
"If the new government is able to deliver on its ambitious reform goals, growth can increase to 4% by 2021," the World Bank said in its October report entitled "Migration and Brain Drain."
The analysts said that this will require progress in the following areas: reviving sound bank lending to the enterprise sector by completing the reform of state-owned banks; attracting private investment into tradable sectors by establishing a transparent market for agricultural land, demonopolizing key sectors and strengthening antimonopoly policy and enforcement, privatizing state-owned enterprises, and tackling corruption; and safeguarding macroeconomic stability by addressing current expenditure pressures, securing adequate financing, further reducing inflation, and rebuilding international reserves.
If reforms do not progress and adequate financing is not mobilized, growth could fall below 2% as investor confidence deteriorates, macroeconomic vulnerabilities intensity, and financing difficulties force a compression in domestic demand. Ukraine will need to safeguard macroeconomic stability and manage fiscal risks.
According to the expectations of the World Bank, in 2019, the deficit of the national budget o Ukraine would be 2.2% of GDP. The figure would decrease to 2.1% of GDP in 2020 and to 1.9% of GDP in 2021.
According to the World Bank's forecast, the public debt will also continue to decline this year to 53% of GDP, but will grow in 2020 and in 2021 to 54.6% of GDP and to 55.3% of GDP, respectively.
As indicated in the materials, the current account deficit will continue to grow: in 2019 – to 3.5% of GDP, in 2020 – to 3.8% of GDP and in 2021 – to 4.3% of GDP.
At the same time, the bank expects a slow increase in net foreign direct investment (FDI) inflows in 2019 and 2020 to 2.2% of GDP and 2.3% of GDP, respectively.
At the same time, inflation will take a downward trend: from 9.5% at the end of last year to 6.8% this year, as well as 6% and 5.4% in 2020 and 2021, respectively.
According to the report of the World Bank's experts, the main risk for the Ukrainian economy is formidable financing needs. So, according to the analysts, it will take about $11 billion per year, or 8% of GDP, to pay off government debt and finance the budget deficit in the current and next two years.
"To raise the necessary financing, it is critical to maintain the reform momentum and fiscal discipline, while continuing cooperation with development partners," the bank said in the report.