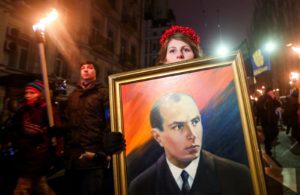 Polish Ambassador in Kyiv Bartosz Cichocki and his Israeli counterpart Joel Lion have said that honoring people who "actively propagated ethnic cleansings" is insulting and are expecting the Kyiv City State Administration (KCSA) and the Lviv Regional Council to join "efforts to seek the truth" in this issue. "We are seriously concerned and saddened that representatives of Ukrainian authorities of various levels, including the Lviv Regional Council and the KCSA, still mark historical events and honor persons who must be condemned once and for all," the ambassadors said in a joint statement.
They thus are alarmed by the fact on December 24, the Lviv Regional Council issued a resolution, which implies the allocation of public funds in 2020 to honor the memory of one of the leaders of the Organization of Ukrainian Nationalists (OUN, which is banned in Russia) Andriy Melnyk, as well as writer and statesman Ivan Lypa and his son and public figure Yuriy Lypa.
"In addition, on January 1, the Kyiv City State Administration (KCSA) placed a banner with a portrait of Stepan Bandera on its building. Remembering our innocent brothers and sisters killed in 1939-1945 on the occupied Polish territories, which are currently part of Ukraine, we, the ambassadors of Poland and Israel, believe that honoring people, who have actively propagated ethnic purges, is an insult, and leads to the opposite result in the fight against anti-Semitism and in the reconciliation process between our peoples," the statement reads.
In this connection, the ambassadors are expecting the Lviv Regional Council and the KCSA to join the dialogue seeking the truth.
"On our part, we stand ready to promote better cooperation between various institutions in Israel and Poland, including with Yad Vashem and with the Institute of National Remembrance," the statement said.
As reported, a procession with torches marking Bandera's 111th birth anniversary took place in downtown Kyiv in the evening on January 1.
According to media reports, about 1,500 attended the event.
About 2,000 attended the torch march that marked Bandera's birth anniversary in 2019.