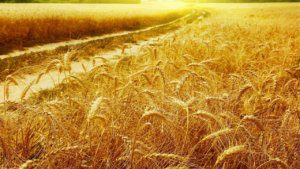 Taking into account grain harvests in the past years and the skills of farmers to work in different weather conditions, Ukraine would have more than enough grain for consumption, Deputy Agricultural Policy and Food Minister of Ukraine Viktor Sheremeta has said.
According to the press service of the ministry, one fifth of wheat harvest is enough for domestic consumption of Ukrainians.
"I want to lift all fears of our compatriots that in Ukraine there may be a shortage of grain, in particular wheat. Today we have so much grain that we need a fifth for domestic consumption of bread, and we export the rest of the grain. We feed the whole world. We harvest and we will harvest at least 60 million tonnes of grain," the press service said, citing Sheremeta.
According to the ministry, as of June 20, 2018, 610,000 tonnes of grain have been threshed from 192,000 hectares with a yield of 31.7 centners per hectare, of which 48,000 tonnes of winter wheat from 18,000 hectares with a yield of 26.9 centners per hectare.