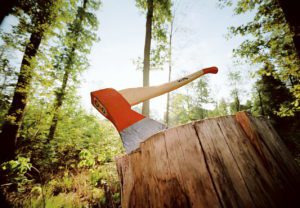 Ukraine in 2018 logged around 22 million cubic meters (mcm) of wood, Deputy Head of the State Agency of Ukraine for Forest Resources Volodymyr Bondar said, presenting a report of the authority in Kyiv on Friday. According to him, the enterprises of the agency logged 16.5 mcm of wood (a rise of 3.7% compared with 2017), and about 5-6 mcm of timber was logged by other forest users.
The state forest agency sold 13.7 mcm of round wood to the domestic market (a rise of 9%) for the amount of UAH 12.8 billion, another 2.2 mcm of wood was sent to processing enterprises. Some 527,000 cubic meters of wood were sold to foreign markets (a fall of 40%) for the amount of UAH 0.4 billion. The average price of a cubic meter of wood sold is UAH 946.
According to Bondar, illegal logging in 2018 in the forests managed by the agency amounted to 17,700 cubic meters, and the loss from illegal logging was UAH 117 million. The stock of timber in the Ukrainian forests is estimated at 2.1 billion cubic meters, the annual increase is about 35 mcm of wood. The average annual volume of logging is about 22 mcm.
According to the deputy head of the agency, the agency intends to focus on forest inventory and environmental protection measures in 2019. "We hope this year to improve the work on forest reproduction through the creation of the forest fund in the national budget. In particular, we hope to increase the rate and volume of forest reproduction in the South and East," Bondar said.
According to the agency, the area of forest reserves of the agency's forest structure is 16.6%.
According to the national budget for 2019, UAH 614.7 million was announced for the State Agency of Ukraine for Forest Resources, of which UAH 462 million is for forestry and hunting, protection of forests in the forest fund. As reported, the State Agency of Ukraine for Forest Resources plans to launch a pilot project of an electronic register of logging tickets in March.
The total area of forest areas in Ukraine is almost 10.4 million hectares, the forest cover of Ukraine is 15.9%. Some 7.6 million hectares of forests (73% of the forest fund of Ukraine) are subordinate to the State Agency of Ukraine for Forest Resources.